Estimated Time to Read: 4 minutes
A real estate agent no doubt can help you a great deal in closing a deal, whether you are buying or selling a house. According to a report by the National Association of Realtors (NAR), more than 80% of the real property transactions happen with the help of realtors.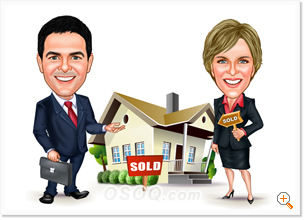 Real estate agents are professionals with years of experience and possess expertise on technical, business issues that are very important to a real estate transaction. The challenge however is to pick the right realtor that can help you find the property that fits your budget and helps you own the dream house you have always wanted. If you are looking to buy a home in a particular area, say Coconut Grove, make sure to choose a Coconut Grove realtor, as he/she will be familiar with the area much more than an outsider. Here are a few tips on choosing the right realtor to help you complete your real estate transaction – buying or selling of your house.
References: Previous clients of the realtor can help you make a decision whether to hire a particular realtor or not. Once you have made a list of the potential realtors you might hire, ask them for references of past clients they have worked for, and have helped them close the deals successfully. Also, make sure that you check with clients who have bought or sold houses in the same category that you target. You may also want to go around the neighborhood and check for the house for sale signs, and see if the company you have shortlisted is dealing with any of those properties. You can also research the web for reviews, etc., available on the internet.
Check for the license and accreditation: Almost every state has a regulatory body and licensing authority that permits realtors to deal on behalf of clients. Check with the local or state boards to see if a particular realtor has the license to deal with the property and if there are any complaints against the realtor or the firm.
Read reviews: Many online forums, boards online post reviews about realtors (www.ehow.com/how_4479760_find-good-realtor.html). Check out for such groups, discussion boards on the internet to understand the experience clients may have had dealing with realtors. Many real estate forums and websites have review section you can look up realtors with their name, or by locality.
Consider many Agents before hiring One: Prepare a list of potential relators, as every agent has his or her own perspective and can impress you in their own ways. Have a one on one discussion with each of the potential candidates, so you understand their experience, knowledge and their skills in closing similar real estate transactions.
Check for realtor's experience and expertise: The right realtor is the one who has experience in dealing with the similar kind of properties, how many years of experience a particular realtor has in dealing with real properties, especially properties similar to the ones you planning to buy or sell. What strategies, does he follow in buying or selling properties – How would he list a home when selling it or how would he search for the right kind of property when you need to buy a home. You can also look at their current listings, etc.
Years of experience: Check how long has the realtor been in in real estate business, according to expert it is better to avoid a realtor with less than five years of experience. As the saying goes, practice makes one perfect, so the more years of experience a realtor has, it is better for your deal.
Technical Expertise: With technology becoming an important force in our lives, business, etc. the realtor should be comfortable using latest technologies, gadgets, software, etc., so he can help us find the right properties, at the right price and while selling it helps him take the property to a wider market and get a better deal.
Communicator: Communication plays an important role everywhere; the realtor you chose should be able to communicate effectively, and regularly. He has to keep you updated on the status of the property deal, and be able to negotiate the deals in a very professional manner with the prospects.
Apart from these skills and qualities, a realtor must work with honesty, integrity and work in good faith to benefit his client. He should not act in a way that negatively affects his clients financially or emotionally. On the other hand, a realtor with great work ethics, rich experience and expertise can help you seal the deal in short time, make a decent profit, and save your time and resources!